There are not many victims of crime who survive and bounce back a better person.
Meet Debbie Ali, former teacher, 40, who despite her terrible 14-day ordeal at the hands of kidnappers, is now offering services to help those like her, and those who may be thinking of suicide as a way out.
The reason for her kidnap remains a mystery, but the mastermind behind the kidnapping, Selwyn "Robocop" Alexis and two of the kidnappers are now dead.
Debbie was a teacher, a mother of two, and a loving wife to her husband, Ashmeed Ali. On the night of December 5, 2006, she was preparing to celebrate her 30th birthday when she was kidnapped.
She was not released until two weeks later, when an undisclosed ransom was paid for her release. Nearly 11 years later, no one has been charged with that kidnapping.
While the lives of most kidnap victims change, and they choose to remain silent, Ali was not prepared to let it die. On June 18, 2009, she mounted a political platform in Gasparillo and spoke of how her life had changed.
She added then, "I am almost certain that everyone here knows the story of my kidnapping in December 2006, and I will continue to say that crime and the horrid effects of violent crime are not so much a political issue as it is a people issue.
"My life and the lives of my family have been forced into change, and believe me when I say that, not all change is positive. I can no longer walk the busy streets of San Fernando like I did almost everyday, as a teenager. I can no longer water the plants in my front yard after dusk even with a secure fence because there are always nefarious characters lurking, watching and waiting on an opportunity to pounce.
"I do not live in fear, I live aware. No longer can I go for a jog around the block. Why? Because, about two months ago, a young man jogging in front of my very own house was beaten and robbed directly under the street light. I do not believe that anyone was caught. In fact, to date, no one has ever been arrested in connection with my kidnapping."
The former teacher said there have been terrible changes in the lives of her two children. "I foolishly thought that they were overcoming the pains they suffered as a result of my abduction."
"No longer than three weeks ago, I told my eight-year-old daughter at her school that I would be in a nearby classroom speaking to a teacher. "You see, now I must always tell my two children and husband where I will be at all points in time. A short while later, my baby daughter ran back to look for me, and I forgot what I had told her. She grew hysterical and in her panic, she ran crying onto the football field to find her brother.
"In sheer hysteria, my two babies combed the entire school compound looking for me and eventually found me in the said classroom speaking with the teacher. My daughter's response was to latch on to me crying hysterically for a good 15 minutes.
"She cried that she thought 'they' had taken me again, that 'they' had kidnapped me again. My son, as brave as he was for his baby sister, and as red and breathless as he was from playing football, let out a sigh of relief that made him weak in the knees and he all, but cried as well." After nearly three years, Ali said she has not seen justice.

"While I had said in the past that I had forgiven my abductors for their wrongdoing, I most certainly did not mean that I did not want to see them brought to justice," she said. "Perhaps, having those criminals caught may bring some healing to my husband and me, but what about my two innocent children? Will there ever be healing for them? Will they ever get over the fear of losing me again?"
Ali was at her home at Roystonia Gardens, Couva, on December 5, 2006. She was preparing to open gifts with her husband and children in celebration of her 30th birthday. She was cleaning her garage. When she saw her neighbours going inside, she also decide to go indoors.
She stretched her hand to push the automatic button to open the front garage gate when she was snatched. According to Ali, that took just 30 seconds. "That was all the time needed for them to snatch me away from my family," Ali said. She was kept locked in her husband's car for two weeks. She was kept blindfolded and at the mercy of the kidnappers.
After she was released, Ali said, "God and God alone was the only force that gave me the determination to keep a positive mind and the will to survive. "Some days I wish I could crawl in a hole and never come out. I have many days like that," she added.
She was kidnapped two weeks before Xtra Foods CEO, Vindra Naipaul-Coolman. Ali was released the day after Naipaul-Coolman was snatched and never heard of again. Naipaul-Coolman was never found.
Ali has written a book, "Bare Feet" which describes her experience at the hands of the kidnappers.
Today, she has gone further, setting up a website, http://www.deardaa.com/ and offering numerous services which are listed below.
One on one counseling services for adults and adolescents 

Rape counseling

Counseling for persons prone to suicide

Self esteem and self image issues

Trauma and post traumatic stress symptoms

Victims of violence

Anger management

Stress control

Depression

Body control strategies

Mind control methods

Life after trauma coping mechanisms 

Spiritual assistance and healing

Meditation and healing techniques

Speaking engagements on various topics.
One thing is certain, Debbie Ali has bounced back and is now gearing up to help those who experience the pains of crime.
DEBBIE ALI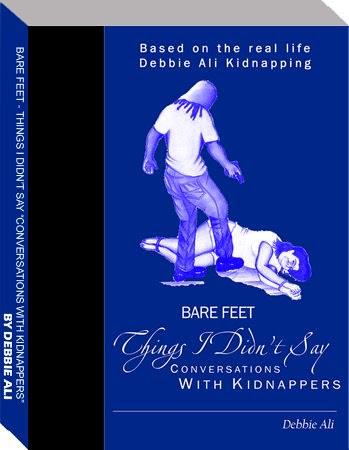 THE BOOK, BARE FEET