THE EDITOR
: 
On Wednesday
, a call by the media alerted me to the possibility that the Noel Garcia-led UDeCoTT Board had allowed insurance coverage to lapse for the Government Campus Plaza, which house the following:
1.       Inland Revenue Division.
2.       Custom and Excise Headquarters.
3.       Immigration.
4.       The Ministry of the Attorney General and Legal Affairs
5.       GCP Parkade
I call on the government and UDeCOTT to immediately disclose to the National Community the status of insurance coverage to the POS Waterfront Plaza i.e Trinidad Hyatt Regency, Tower C and Tower D, where the Parliament of Trinidad and Tobago and the Integrity Commission are housed.
The unbelievable expose that the Urban Development Company Limited (Udecott) has failed and or neglected to provide continuing insurance coverage to the multi billion dollar government campus, the Ministry of Education and Legal Affairs towers and other critical taxpayer owned buildings, is a shocking example of criminal negligence on the part of the Ministry of Housing and the Udecott chairman and Board of Directors.
During my tenure these buildings were insured by 21st Century Insurance Brokers in the sum of $10M.  It should be noted that the brokers were selected by competitive tenders and they were the lowest tenderers.
To learn that the present Rowley led government has failed to extend and or provide coverage, even when Rowley himself was Minister of Housing, reeks of incompetence.
The very dire result is that in the event of injury to members of the public and employees at these offices, and damage to the buildings from the recent earthquake absolutely no insurance coverage is available .
Who will pay for reconstruction, repairs and injury? Again the negligence and incompetence of this government is alarming  !!
I call for the immediate dismissal of the chairman and board of directors of the Udecott . Heads must roll!!!
Dr Roodal Moonilal
Former Minister of Housing and Urban Development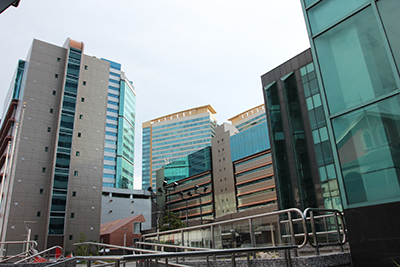 Government Campus Plaza